Flat out Formula One is the "Rolls Royce" of our Flat Out series which see teams building boats, pyramids, chariots, and in this case life-sized Formula One cars - from CARDBOARD. And the high-octane thrills, and focused precision of an F1 team in action made for exactly the experience the senior team of branch managers from OCBC were looking for.
The Objective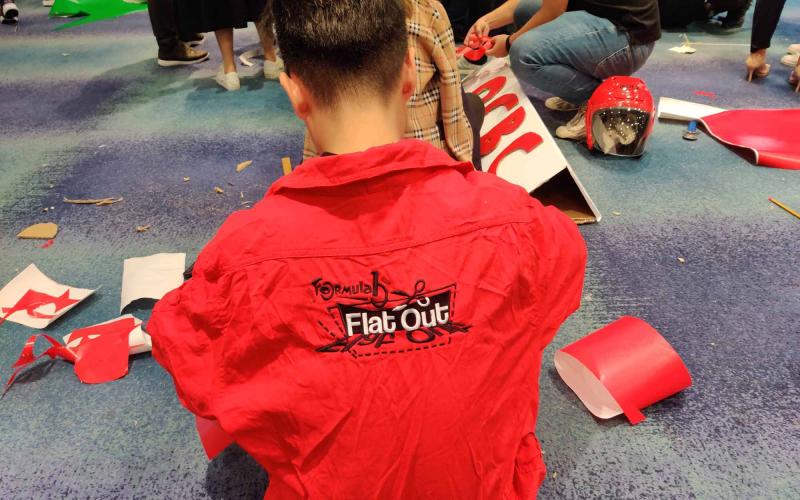 With a limited time of 2 hours and SO much to do we divided the group into 5 large teams with over 20 participants in each. Between the multiple plans and 8 giant sheets of card per team, effective planning, delegation and teamwork immediately came to the fore as teams distributed roles and tasks to ensure the construction could be completed within the time given.
What went on?
After a raucous ice-breaker activity and detailed briefing, teams were provided with all the tools, materials and plans needed to accomplish the task. A quick huddle to to divide up tasks and teams set about measuring, drawing & cutting cardboards before the assembly began. And of course, despite the detailed step-by-step pictorial assembly instructions, a few teams still had 101 questions about how, what and where all the sections fit together.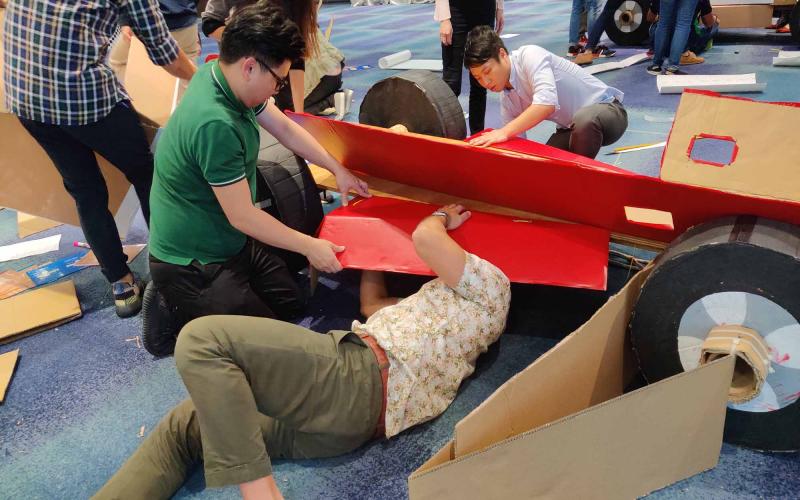 With plenty of hands to help out, we also equipped these teams with some high-end decoration materials – giant rolls of vinyl stickers in a variety of colors – to really add some extra "cool factor" to the car designs and the perfect opportunity for some well-placed branding. (Most of the teams chose color schemes in line with the OCBC brand colors or that of co-sponsors Great Eastern).
The Finale
In just the nick of time, teams managed to finish building and decorating their cars and the ballroom floor was cleared for the finale. First the decorators claimed bragging rights for their cool designs with a slow parade around the ballroom. Then finally, THE RACE, with a driver steering while 2 team-members pushed the car around a figure-of-8 course, accompanied by pumping music and giant onscreen timer. The competitive energy was electric and the spectators barely able to keep off the track – while the race was won and lost as much by the obligatory PIT STOP as by the super slick "drift" steering around the course.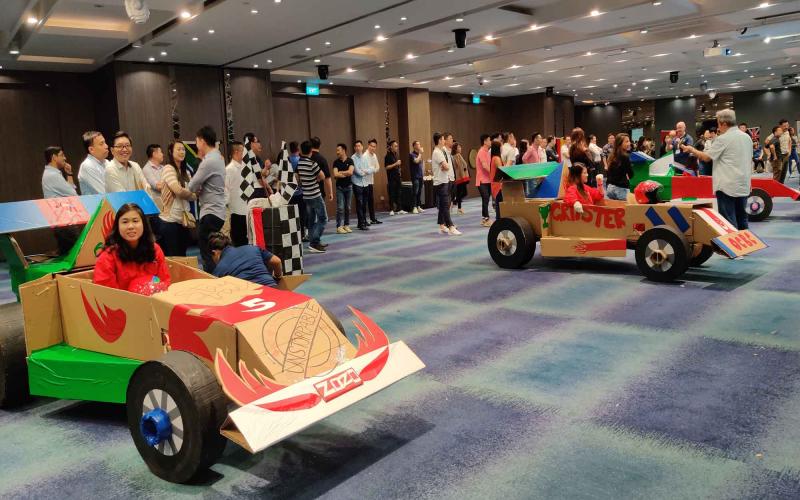 And as the final touch, the winners walked away not with medals but a B1G1 certificate testifying to the impact made on their behalf to a community project supported by our partners Buy1Give1