In the past 145 years, Kimberly Clark Professional (KCP) have kept to their same values, which are Authenticity, Accountability, Innovation, and Caring. They have maintain promise to the community and made sure that safety was always ensured in the production of the products – Kleenex, Scott, KIMTECH, and WYPALL – as well as the usage.
Every once in a while, KCP would gather with other departments to hold a conference and to meet the team. The first time Asia Ability worked with them was when they met up in Kota Kinabalu for a regional meeting. Their second meet-up involved departments from across the Asian region such as Malaysia, Singapore, Japan, Philippines, and Indonesia.
We met with the KCP team at Le Meridien, Putrajaya where 70 managers and executives had their conference. It was an early morning session for the KCP team before handing it over to our Creative Team Building to lead the show.
Team building is not only about having fun and getting to know your team. It's a process of turning a group of individual employees into a cohesive team, a group of people organized to work together interdependently and cooperatively to meet the needs of their customers by accomplishing their purpose and goals.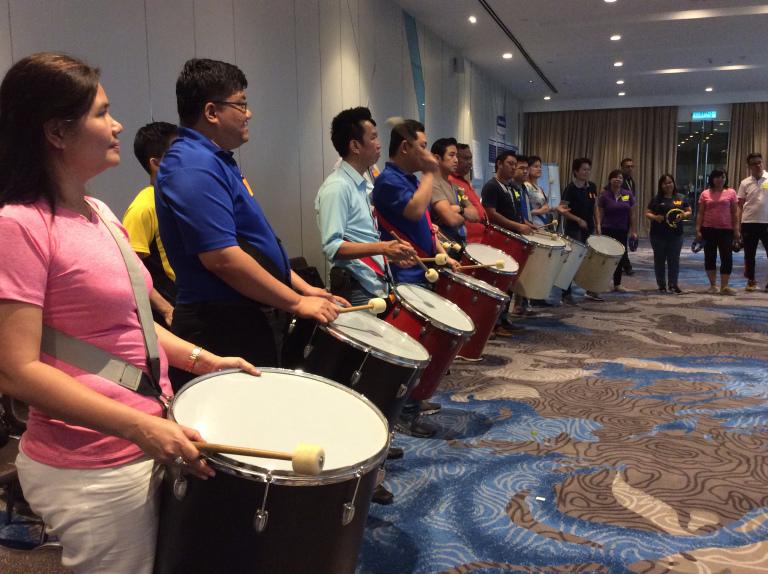 We had a full day with the KCP team starting off with a little ice-breaker for everyone to get to know each other. Kimberly Clark Professional had three activities lined up for them for the day. After their ice-breakers, teams were sent off to do Go Team Go Team for an hour and a half. They snapped photos and got to know each other's capabilities during this session. After the time was up, they headed back to the meeting room where lunch was served.
After their delicious lunch prepared by Le Meridien, we brought the KCP team back into a brief discussion about their goals and achievement for the year. It was a classroom setting that was requested and Asia Ability worked closely with KCP to deliver this for them.
It was an hour and some minutes later that energy was brought back into the room with a program called Beatswork. The KCP team gathered with their chosen instruments and strum a samba tune that sounded like they belonged in a band. They were amazing at being a team.